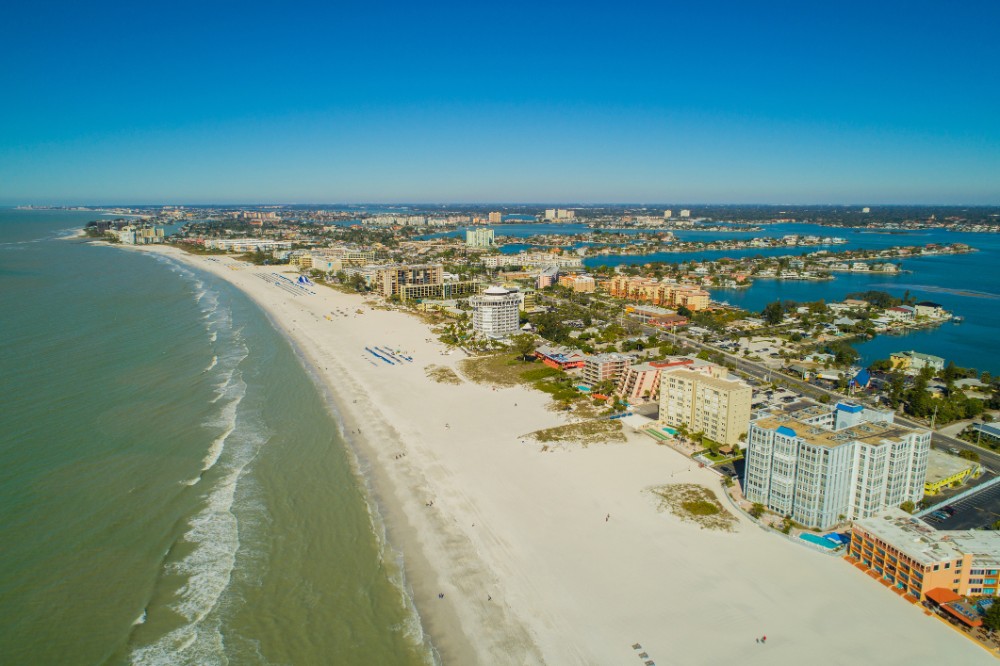 Get ready for a beach trip you won't forget. Include these St. Pete Beach activities in your itinerary for some fun in the sun.
TripAdvisor famously ranked St. Pete Beach as the world's #1 beach back in 2021 for its relaxed atmosphere, gorgeous white sands, and close proximity to oceanside bars and restaurants. As a matter of fact, the St. Pete/Clearwater area welcomed an estimated 14.9 million visitors that same year. These beachgoers contributed over $62 million to the local economy as they marveled the glistening waters of the Gulf of Mexico and sunny weather.
Here are some of the finest attractions that the area has to offer and which St. Pete Beach activities to add to your bucket list when you visit these scenic shores.
SOME OF THE MOST BEAUTIFUL BEACHES IN FLORIDA
Incorporated in 1957, St. Pete Beach is made up of the towns of Pass-a-Grille, St. Petersburg Beach, Belle Vista, Don CeSar, and unincorporated areas of Pinellas County. Once a citrus farming community, St. Pete Beach became a beloved resort town with the construction of a wooden toll bridge in 1918 and the Don CeSar Hotel in 1925.
Today, its laid-back vibe harks back to simpler times. It epitomizes the classic Florida beach town with coastal cottages, seafood shacks, and elegant resorts. Its main attraction has always been the beach, which has been featured in Conde Nast Traveler  and many other publications around the world:
Located on the south end of St. Pete Beach, Pass-a-Grille features over four miles of white sand with enough space to play beach volleyball, enjoy a picnic, or just lay out under the sun. The powdery soft sand extends far into the shallow waters before gently sloping into the depths. The turquoise waters are often clear enough to view marine life, such as hermit crabs in the shallows and the occasional passing dolphin in the distance. On the shore, several walkways meander through coastal dunes, sea grapes, and sea oats for a memorable stroll amidst breathtaking scenery.
Paradise Grill's Pass-a-Grille location is a mainstay in the local waterfront dining, nightlife, and live music scene. The extensive menu includes grilled fish, fries, beer, and wine. Diners can listen to live trop rock music with some of the finest musical talent in Florida.
The beach and the adjacent town purportedly get their name from the French phrase Passe Aux Grilleurs, or the passageway of the grillers, after the Spanish and Cuban fisherfolk who once camped and first settled in the area. The entrepreneurial John Gomez, who was purportedly one of "the last pirates", was among the first to promote Pass-A-Grille Beach as a summer destination, bringing vacationers from Tampa and the surrounding communities to lively excursions on the beach. This makes Pass-a-Grille one of the oldest resort destinations on the western coast of Central Florida.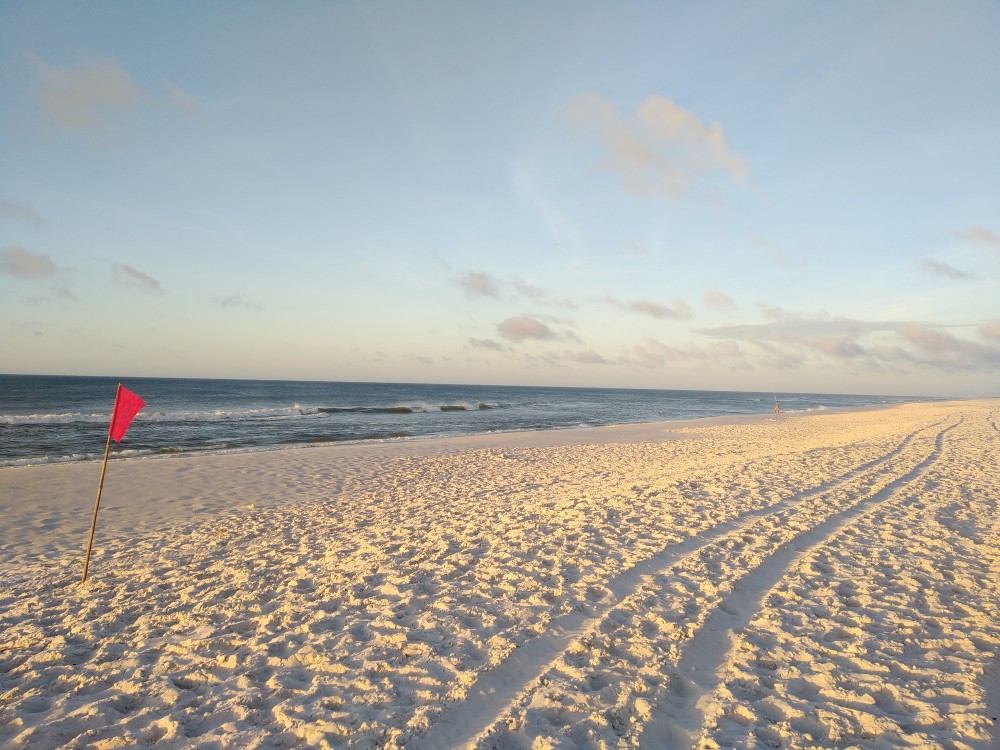 This picturesque beach is the northernmost stretch of sand in St. Pete Beach. Spanning across four blocks of the city, it extends from 67th to 71st Avenues. As a renowned summer destination, it provides access to a wide expanse of beach with fine white sand and unobstructed views of the water. It is also one of the more quiet areas in St. Pete Beach as it is located farther away from the major resorts in the area. It is usually less crowded than other parts of the city. With plenty of umbrellas, lounge chairs, and cabanas available, it is the perfect place to relax and soak up the rays.
There are several wooden walkways that wind from the parking lot to the scenic shoreline. Aside from water activities, Upham Beach provides access to a number of volleyball courts and a rock jetty north of the beach. Nearby is the mouth of Blind Pass, a famed surfing and fishing spot.
Paradise Grille's Upham Beach location offers fantastic food and drinks with breakfast sandwiches, tasty smoothies, ice cold beer, fresh shrimp, and fish and chips. Knock back some drinks and listen to live music while admiring views of the water.
Upham Beach is located just a few blocks away from Historic Corey Avenue, a vibrant shopping district with an eclectic mix of boutiques, thrift stores, art galleries, salons, restaurants, wine cafes, and tiki bars. If you need to shop for beach apparel, get a new haircut, or savor a glass of wine, just head over to Corey Avenue from Upham Beach for a quick change in scenery. If shopping ranks high in your list of St. Pete Beach activities, this is the place for you. Located between Boca Ciega Bay and the Gulf of Mexico, it is truly a haven for shoppers.
It gets its name from multimillion-dollar developer Nathaniel Janeway Upham and the Upham family, who are widely credited for platting and developing the northern end of the beach as well as nearby Corey Avenue. Surrounded by sleek condos and apartments, Upham Beach has had its sands pumped out and then replenished as part of a $34-million renourishment program. Today, it is one of the finest stretches of sand in Florida.
Many of the lots fronting Corey Avenue was mostly a mangrove swamp before Upham got involved and paved the street in 1936. The shopping district was dedicated in 1937 with a motorcade and mass celebration.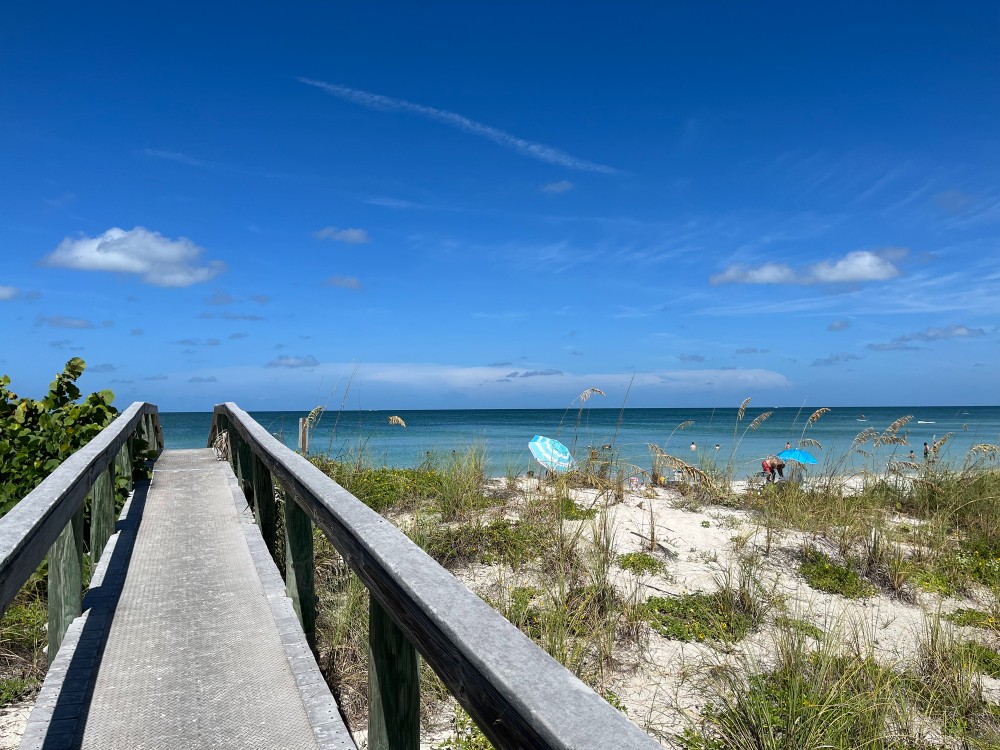 Located along 4700 Gulf Boulevard, this beach access offers ample parking – a total of 235 parking slots – for a fee. So if you're bringing your car, come to this sunny corner of St. Pete Beach for stress-free parking and direct beach access.
There are three boardwalks for walking, jogging, and admiring views of the water. This is also an excellent place for swimming and sunbathing on a fun day out. Located near condos and apartments, this access point features restrooms and showers as well as a water fountain to help you stay hydrated on the beach.
WATER SPORTS TO TRY IN ST. PETE BEACH, FL
Kayaking – Glide across the water when you go kayaking in the Gulf of Mexico. This water activity works your arms, back, and chest as you paddle along the sparkling waters. Rent a kayak or bring your own. Kayaking is a wonderful way of exploring the mangrove forests and serene waters surrounding St. Pete Beach.
For something out of the ordinary, make a reservation with Sharkey's LED Illuminated Night Tour on Glass Bottom Kayaks in St. Pete Beach.This tour invites you to explore the waters of the gulf in the dark with the guidance of LED lights and a glass bottom that lets you observe nocturnal marine life. Nothing short of magical, this tour provides valuable insight into the lush mangroves and diverse ecosystem of St. Pete Beach.
Parasailing – Feel the thrill as you soar above the Gulf of Mexico and catch sweeping views of the beach and surrounding areas. Also known as parakiting and paraskiing, this exhilarating water activity will have you flying over blue waters in a canopy wing as you get towed by a motorized watercraft.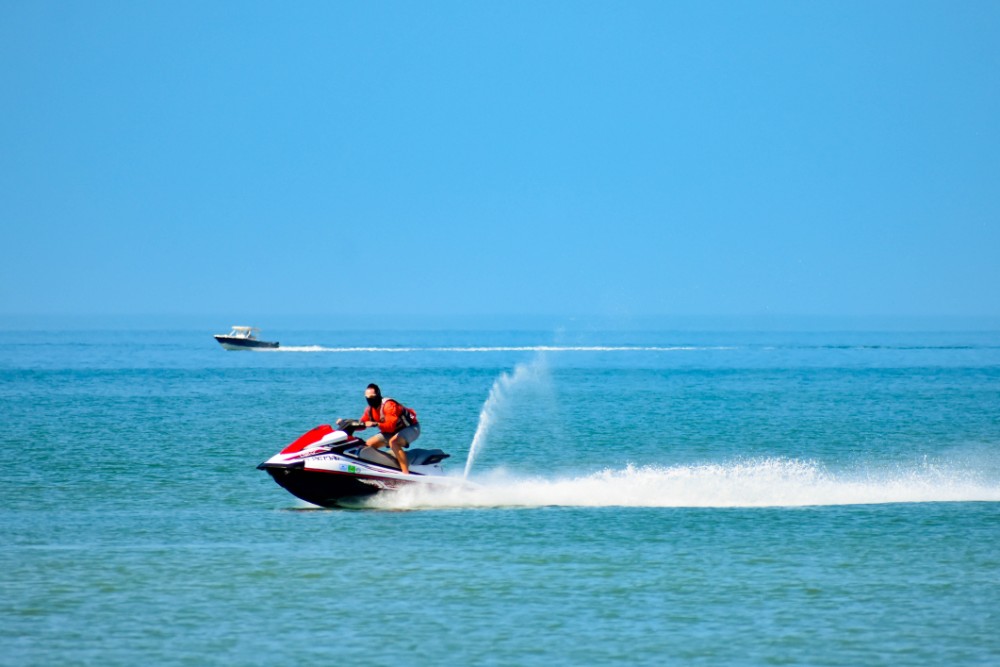 Jet Skiing – For an adrenaline-filled water adventure, get on a jet ski and ride across the waves. Jet skiing is a great way to improve your balance and coordination while exploring the crystalline waters of St. Pete Beach.
Windsurfing – Can't decide between surfing and sailing? This unique water sport offers the best of both worlds. It involves balancing on a specially designed board with a mast and sail. Harness the power of the wind and conquer the water with this exciting sport that will change the way you see St. Pete Beach activities.
Stand-Up Paddleboarding (SUP) – For a more relaxed and leisurely activity, stand-up paddleboarding lets you explore the gentle waters of the Gulf of Mexico and view marine life up close. Despite its seemingly sedate nature, SUP helps you work your core and sense of balance.
Snorkeling and Scuba Diving – The action doesn't stop above the water in St. Pete Beach. There's more to see and do beneath the waves. Snorkeling and scuba diving are excellent for exploring vibrant coral reefs with colorful fish, sea turtles, and other marine life.
WATER ADVENTURES IN AND AROUND ST. PETE BEACH, FL
Fishing Charters – Catch snapper, tarpon, grouper, and other fish species when you join a fun-filled fishing charter adventure. Book a half or full-day trip to enjoy deep-sea fishing, inshore fishing, and more. Some charters provide fishing equipment, full-course meals, live music, and other modern conveniences for a memorable trip.
Dolphin and Whale Watching – The Gulf of Mexico is known for its diverse marine life and spotting a whale or dolphin in the open water is the experience of a lifetime. Bottlenose dolphins are some of the most commonly sighted dolphin species around St. Pete Beach, particularly in its bays and channels. Sign up for a boat tour or dolphin-watching cruise for the chance to see these friendly and playful creatures in their natural habitat.
Whale sightings are less frequent. However, there have been occasional sightings of whales passing through the area. These include minke, pilot, and humpback whales. There have also been reports of purported orca sightings in the St. Pete Beach area. Joining a guided dolphin-watching cruise or boat tour with a local operator will put you in touch with guides who can provide information about local marine life and conservation efforts.
It's also important to keep in mind that dolphin and whale sightings are never guaranteed as these marine creatures are not always present in certain areas. Despite the lack of a guarantee, it's still worth getting out on the water with a knowledgeable guide and good company.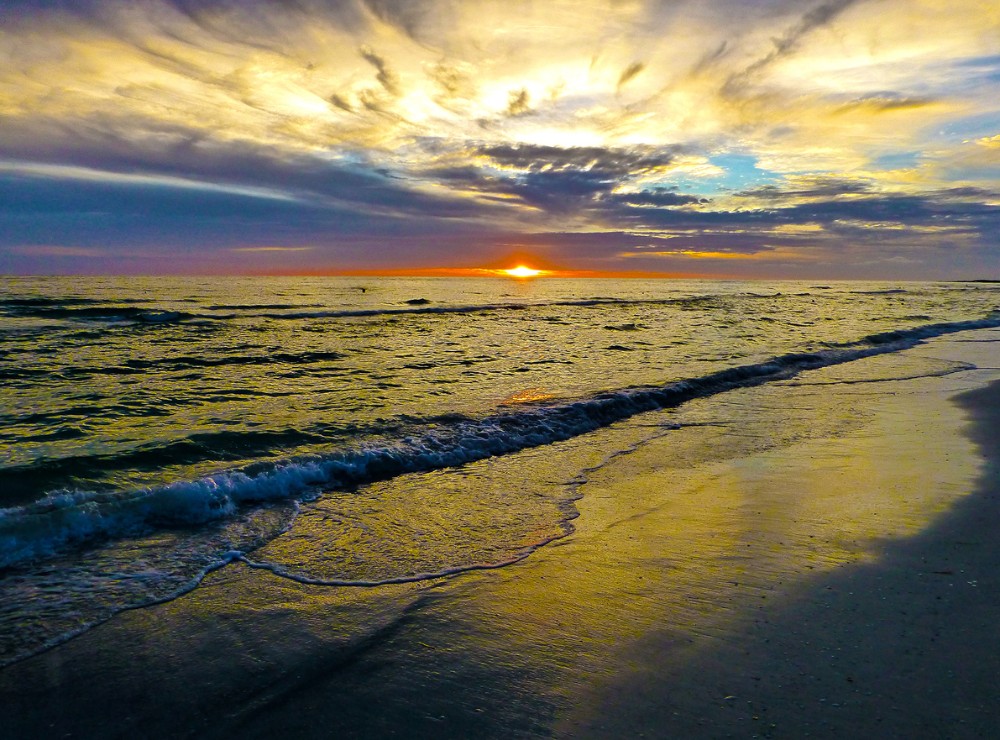 Sunset Cruises – There's nothing more romantic than a sunset cruise. Enjoy breathtaking views of the Gulf of Mexico and St. Pete Beach as the sun sets over the water. Many sunset cruises offer live music and sumptuous food and drinks. Sip wine while listening to music and cuddling with your significant other on a sunset cruise you'll never forget.
Island Hopping and Boat Tours – Join a guided boat tour to explore the shoreline and nearby islands. St. Pete Beach is located within close proximity to several islands and keys in the Gulf of Mexico. These islands can be accessed through private charters and tours. Some of these tours offer snorkeling and shelling activities in certain locations to help you make the most of the trip.
The Pass-A-Grille/St. Pete Beach Ferry provides a daily ferry service that carries passengers from St. Pete Beach to renowned island hopping destinations such as Shell Key Preserve and Egmont Key. The ferry is a convenient way to travel to nearby islands and experience the seclusion and natural beauty of these areas.
A ferry departs from the Merry Pier in Pass-A-Grille at the southern tip of St. Pete Beach. From there, the ferry offers quick and cost-efficient transportation to either Shell Key Preserve or Egmont Key, depending on your desired location:
Shell Key – Located south of the city, Shell Key Preserve is a barrier island with unspoiled beaches and remarkable wildlife. There are a number of boat and kayaking tours that explore Shell Key, which offers numerous opportunities for swimming, wildlife viewing, and natural exploration.

Egmont Key – This scenic state park is located at the mouth of Tampa Bay and features a historic lighthouse and picturesque beaches. It is known for world-class snorkeling and diving. Visitors can also join historic walking tours of Dade and explore the nature trails for the chance to spot birds and nesting sea turtles that call Egmont Key home.

Caladesi Island State Park – If you're in the mood to venture farther out, Caladesi Island is a remote island that is only accessible by boat. This gorgeous island is a ferry ride away from St. Pete Beach. It is known for its white sand beaches, crystalline waters, nature trails, and picnic areas. Swim alongside turtles and manatees and enjoy breathtaking views of the water.

Honeymoon Island State Park – This island is a wonderful day trip destination for travelers with over four miles of white sand and about three miles of wooded hiking trails. It is a popular spot for bird watching and nature photography.

For a convenient island hopping experience, sign up for guided boat tours and cruises that depart from St. Pete Beach and provide ready access to these fantastic islands and keys. It is also advisable to make reservations ahead of time especially during peak season, to secure a spot on the ferry. You can also rent a private charter for a more intimate and personalized island-hopping adventure. It also helps to check ferry availability, schedules, and applicable permits or restrictions in place for a specific island or state park you want to visit.
Snorkeling Tours – St. Pete Beach is an excellent jump-off point for snorkeling tours in nearby locations, such as:
Fort De Soto Park – Located in Tierra Verde, Fort De Soto Park offers snorkeling with a fantastic shoreline and a designated snorkeling trail with buoys near North Beach. The snorkeling trail leads to an otherworldly experience beneath the water, where you can observe marine life up close and swim past small reefs and seagrass beds.

Egmont Key – In addition to abundant marine life, the key is home to artificial reefs and submerged structures, such as gun batteries that were once part of Fort Dade, that provide a haunting backdrop to snorkeling sessions.

Shell Key Preserve – Although the preserve does not not have extensive coral reefs, it still offers memorable snorkeling op[opportunities in crystal clear waters that are teeming with various fish species and other marine life.

THE BENEFITS OF LIVING IN ST. PETE BEACH, FL
Enjoy St. Pete Beach activities throughout the year when you buy a home in this dynamic city. More than a vacation spot, St. Pete Beach is a livable city with gorgeous homes, first-rate amenities, and a close-knit community. Live amidst the breathtaking beauty of the Gulf and enjoy kayaking, paddle boarding, and fishing in your own time. The St. Pete Beach lifestyle is unmatched when it comes to water sports and waterfront dining.
Pass-a-Grille offers an excellent selection of beach bungalows and modern condos depending on your needs and preferences. St. Pete Beach also offers single-family homes with Mediterranean and Ranch-style architecture as well as lush tropical landscaping.
WORK WITH A LOCAL EXPERT TODAY
Find the perfect home with Dania Perry of Dania Perry Luxury. As a trusted real estate expert, she has worked with clients from all over the world. As a top selling Century 21 Realtor, she brings market knowledge, dedication, and discretion to the table.
Dania also serves clients in St. Petersburg, Tampa Bay, and the surrounding areas. Contact her at 727.215.2045 or send her an email to set up a consultation.