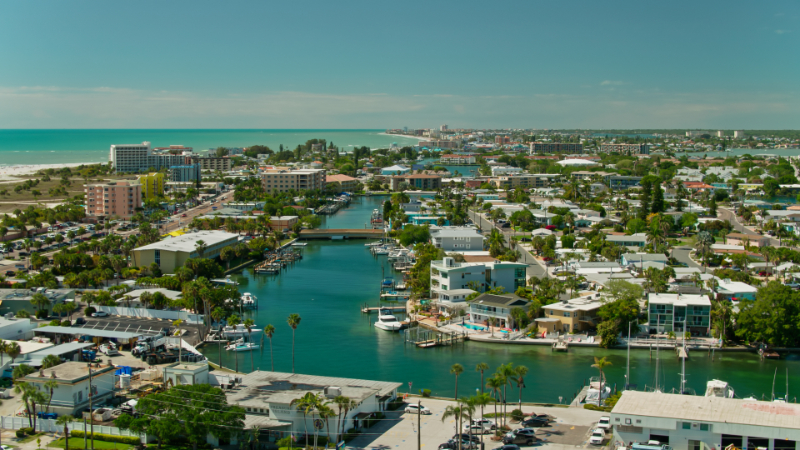 Treasure Island Average Home Statistics:
Average Home Prices
Lowest – $307,690
Average – $680,000
Highest – $3,808,700
Average Home Price per Square Feet
Lowest – $418
Average – $564
Highest – $890.93
Average Home Statistics in terms oF:
No. oF Beds – 3.1
No. oF Baths – 2.88
Square Feet – $1,205.67 Source: Realtor.com 7/18/23
The city of Treasure Island, Florida is known for its beautiful sandy beaches, vibrant atmosphere, and close-knit community. One of the highly desirable South Pinellas Beach communities, Treasure Island boasts beautiful homes for sale set amid the perfect blend of tranquility, natural beauty, and an active beach lifestyle.
In 2021, Treasure Island Beach was ranked the 16th best beach in the United States on Tripadvisor's annual Travelers' Choice rankings. With over three miles of shoreline along the Gulf of Mexico, this idyllic Floridian paradise allows residents to enjoy the sun, sea and surf, as well as host of entertainment options.
Treasure Island at a glance
If you're ready to escape the pressures of city life, this alluring destination is the perfect place to call home.
Location
Treasure Island is a barrier island flanked by the Gulf of Mexico to the east and the intracoastal waterway to the west. Located just 9 miles west of downtown St. Petersburg and just over 28 miles southwest of Tampa, the community's proximity to major cities not only makes it easily accessible but also allows residents and visitors to enjoy the best of both worlds – the tranquility of an island escape and the convenience of urban amenities nearby.
Size and geography
Size-wise, Treasure Island isn't vast, spanning just 3.25 square miles. However, what it lacks in size, it truly makes up for in sheer beauty. One of its prime attractions is the soft, sandy beach stretching for almost three miles along the Gulf of Mexico. This stunning coastline offers ample space for sunbathing, swimming, or simply soaking up the sun while being accompanied by gentle ocean breezes.
Who lives here
The population of Treasure Island is approximately 7,000 residents according to the United States Census Bureau, although this number can fluctuate with seasonal visitors. The community prides itself on its welcoming and friendly nature that fosters a sense of belonging. From young families to retirees, people of all ages are drawn to Treasure Island's charm and leisurely way of life.
Schools
Residents have access to quality public education through Azalea Elementary Schooland Boca Ciega High School.Boca Ciega High School provides an expansive selection of advanced, honors, and college prep courses designed to challenge and prepare students for higher education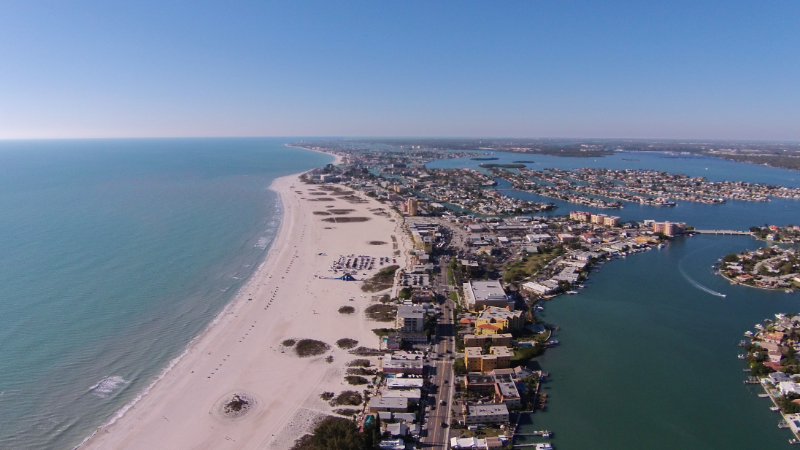 Top attractions and activities
Florida's Treasure Island is renowned for its beautiful sandy beaches, warm Gulf waters, and stunning sunsets. The vibrant neighborhoods in the city each offer their own distinct charm and attractions that keep visitors coming back for more.
One of the most anticipated events in Treasure Island is the annual sand competition known as Sanding Ovations. Held each November, this four-day event attracts talented sculptors from around the globe, showcasing their incredible skills by creating awe-inspiring sand sculptures. The competition is a visual treat, as artists transform ordinary sand into extraordinary works of art. From dragons to mythical creatures and famous landmarks, the creativity and intricacy on display are simply breathtaking.
In addition, locals and tourists alike enjoy a host of attractions and amenities that make staying in Treasure Island truly exciting.
The Treasure Island Tennis & Yacht Club

Tucked away in a quiet corner of the island, the Treasure Island Tennis & Yacht Club is a local secret that offers numerous recreational activities. Whether you're an avid tennis player or simply want to take in the breathtaking views of the Intracoastal Waterway, the club's facilities provide the perfect escape. Enjoy a game of tennis, take a dip in the pool, or grab a bite at their waterfront restaurant while enjoying the relaxing ambiance.

Blind Pass Boardwalk

For nature enthusiasts and birdwatchers, the Blind Pass Boardwalk is a must-visit hidden gem. Nestled between Treasure Island and St. Pete Beach, this tranquil boardwalk overlooks beautiful mangrove forests and offers a unique opportunity to spot native birds, dolphins, and other wildlife. As you stroll along the elevated walkway, take in the peaceful surroundings and don't forget to capture some Instagram-worthy moments!

The Treasure Island Fun Center

A family-friendly hidden gem, the Treasure Island Fun Center is packed with exciting activities and attractions to keep visitors of all ages entertained. Challenge your loved ones to a game of miniature golf on their tropical-themed course, test your skills in their arcade, or spend a few thrilling moments on their bumper boats. With its laid-back atmosphere and nostalgic charm, it's a fantastic place to create lasting memories.
How Treasure Island evolved through the years
Early beginnings
Long before its development, Treasure Island was home to the Native American tribes of the Timucua and Tocobaga. These early inhabitants lived harmoniously alongside the abundant wildlife and had an intimate connection with the serene waters surrounding the island.
European explorers arrived in the 16th century, leaving their footprints on the island, followed by the establishment of Spanish colonies in the area.
Pirate legends and tales
While the legends of pirates burying treasure on the island are more folklore than truth, the city's name itself was inspired by the 1883 novel "Treasure Island" by Robert Louis Stevenson. The novel's popularity influenced local newspapers to dub the island as "Treasure Island," capturing the imagination of adventure-seekers.
Tourist boom and the dawn oF development
In the early 20th century, the area saw significant development fueled by the tourist boom that characterizes it to this day. Throughout the 1920s and 1930s, hotels, cottages, and other accommodations sprouted along the shoreline, attracting visitors from all walks of life.
Post-war growth and modernization
The 1950s marked a period of rapid growth, with new businesses, shops, and recreational facilities taking root. The construction of John's Pass Bridge in 1927 further linked Treasure Island to the mainland and boosted its accessibility.
An icon oF entertainment and leisure
Over the decades, Treasure Island blossomed into a thriving entertainment and recreational destination. Visitors flocked to Treasure Island's shores to enjoy sunbathing, swimming, boating excursions, and a wide array of water sports. The island also became famous for its annual sand sculpture festival, attracting talented artists from around the world.
Treasure Island Florida homes for sale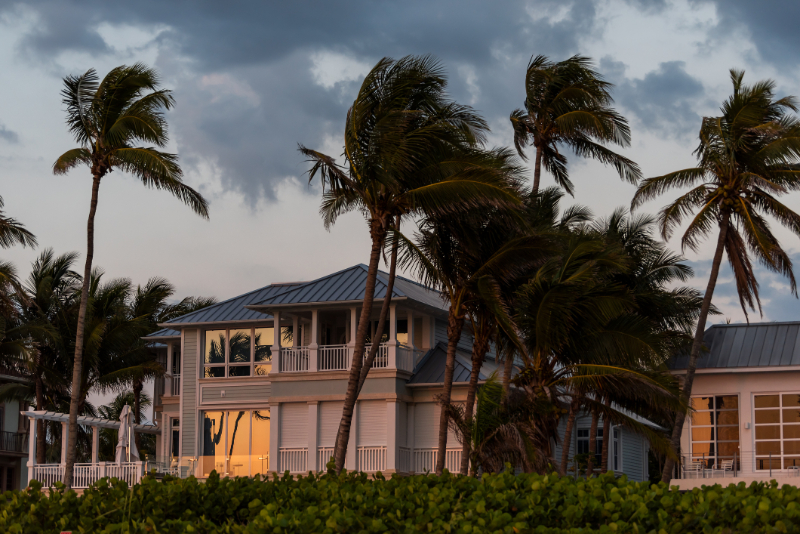 Treasure Island, Florida, is truly a hidden gem with its stunning beaches, friendly community, and thriving real estate market. Surrounded by water, it offers plenty of opportunities for homes right on the beach or the intracoastal, providing the coveted Florida resort lifestyle.
You'll find a wide array of properties that are perfect as your permanent residence with the family, a luxurious home away from home, or a sought after rental property investment.
Property types
Homes in Treasure Island are a vibrant mix of single family homes, condos, and townhomes.
Condos are the predominant housing types. Many condo developments on the island are waterfront or provide great access to the beach. They make ideal vacation homes that you can leave in the capable hands of property managers when you're away, and also make great investment properties that you can rent out to vacationers. They range in price from around
$259,000 for a one bedroom unit to over $2 million for a three to four bedroom unit, and many come with fantastic amenities that include
Single-family homes in the city are treasures that you can enjoy for life. They come with distinct architecture in various styles including ranch, cottage, contemporary, and the distinctly Floridian Key West style. You'll find many waterfront homes for sale in Treasure Island with their own decks and boat docks, offering spectacular views of the surrounding ocean or canals. Prices range from around $560,000 to $6 million or more depending on the size, location, and amenities.
Townhomes are newer properties that also offer great water access and amazing views. They range in size from approximately 1,440 square feet to over 2,800 square feet and price of between $450,000 to over $1 million.
The top neighborhoods of Treasure Island, FL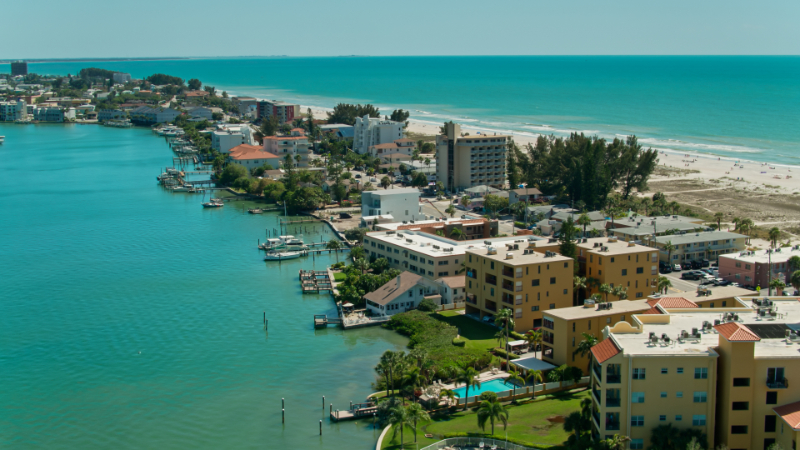 Sunshine Beach
One of the standout features of Sunshine Beach is its tranquil shoreline. Unlike some of the more bustling beaches in Treasure Island, Sunshine Beach offers a peaceful retreat, perfect for those looking to relax and unwind.
Here are unique and lesser-known attractions that make Sunshine Beach an extraordinary place:
The Sea Hagg

The Sea Hagg is a treasure trove for those who appreciate unique shopping experiences. This charming store is famous for its nautical-themed antiques, eclectic local artwork, and a vast array of vintage collectibles. Step inside and be transported into a world of maritime curiosities, where you may find the perfect souvenir or gift to commemorate your visit.

Sloppy Joe's Treasure Island

Hidden within Sunshine Beach's vicinity lies Sloppy Joe's Treasure Island, a delightful beachfront restaurant that invites diners to savor delicious food, enjoy live music, and soak in the laid-back atmosphere. Offering a blend of American and Caribbean-inspired dishes, this local gem showcases the essence of seafood dining fused with Caribbean flair, making it a must-visit spot for any food enthusiast.
Sunset Beach
The name speaks for itself – Sunset Beach boasts some of the most breathtaking sunset views along the Gulf Coast. Picture yourself strolling along the shoreline as the fiery hues of orange, pink, and gold illuminate the sky, casting a mesmerizing reflection on the calm waters below.
But Sunset Beach has much more to offer than its jaw-dropping sunsets. For outdoor enthusiasts, this quaint community is a haven for relaxation and adventure.
Sunset Beach Park

The six-acre Sunset Beach Park serves as the heart of the community. While Treasure Island's main beaches are popular, Sunset Beach Park is a haven that offers a more secluded and intimate setting. Located at the southernmost tip of the island, it provides breathtaking panoramic views of the Gulf of Mexico. Here, you can enjoy a leisurely picnic, play beach volleyball, wander along the serene shoreline, or just relax and soak up the amazing sunsets that are synonymous with this mesmerizing beach.

St. Pete Bagel Co.

When it comes to dining, Sunset Beach affords visitors a true taste of local flavor. Start your morning off right with a delicious breakfast at St. Pete Bagel Co., a hidden gem known for its freshly baked bagels and cozy atmosphere.

Nearby attractions

Treasure Island's central location provides easy access to nearby attractions. Just a short drive away lies John's Pass Village and Boardwalk, a bustling waterfront community known for its charming shops, restaurants, and even dolphin-watching tours.

Alternatively, venture a little further and discover the cultural hub of St. Petersburg, home to renowned art museums, trendy neighborhoods, and a vibrant downtown scene.
Isle of Capri
The Isle of Capri is filled with picturesque landscapes, breathtaking views, and unique tourist spots that are worth exploring. This charming neighborhood boasts an exclusive waterfront location, which sets it apart from the surrounding areas. Many of the finest waterfront homes for sale in Treasure Island, FL are found here.
Attractions in the area include:
The Promenade

As you stroll along the Promenade, the community's popular waterfront boardwalk, you'll be greeted by stunning vistas of the Boca Ciega Bay. These breathtaking views provide the ideal backdrop for an evening walk, a leisurely jog, or simply a moment of serenity to soak in the natural beauty that surrounds you.

John's Pass Village and Boardwalk

This bustling hub for shopping, dining, and entertainment offers visitors a chance to experience the vibrant heartbeat of the area. Whether you're in the mood for some retail therapy, a thrilling jet ski ride, or live music performances, this lively destination has it all.

Festivals

For those seeking a taste of local culture, the Isle of Capri community also hosts several events throughout the year that celebrate the rich history and heritage of the region.

From the annual SeaFood Fest to the Christmas Boat Parade, there's always something exciting happening here.
Isle of Palms
The Isle of Palms community in Treasure Island, Florida may not be as well-known as its neighboring destinations, but it surely holds some hidden gems and unique tourist spots that should not be missed. This quiet and charming area offers a delightful escape from the more bustling tourist areas, providing visitors with a serene and authentic Florida experience.
The attractions in the area include:
Treasure Island Causeway Park

For those looking to discover the island's natural beauty, look no further than Treasure Island Causeway Park. Nestled between the Gulf of Mexico and Boca Ciega Bay, this sprawling park offers a multitude of activities for outdoor enthusiasts. Whether you want to go fishing, have a picnic by the water, or take a leisurely stroll along the walking trails, the Causeway Park has something for everyone. It's a serene oasis where you can connect with nature and soak in the peaceful ambiance.

Palms Community Theater

A visit to the Isle of Palms Community Theater is a must for those seeking entertainment and cultural experiences. This intimate theater hosts a range of performances, from plays and musicals to comedy shows and concerts. Featuring local talent, these shows offer a glimpse into the island's vibrant arts community. Be sure to check the theater's schedule and catch a performance during your visit for an unforgettable evening of entertainment.
Paradise Island
Whether you're seeking adventure or pure relaxation, Paradise Island in Treasure Island, Florida has plenty to offer. The Paradise Island community in Treasure Island offers visitors a true slice of paradise.
Hubbard's Marina

If you're looking to experience the Gulf of Mexico from a different perspective, head to Hubbard's Marina. From dolphin-watching tours to fishing expeditions, this family-owned marina has been the go-to spot for water-based fun for over 90 years. Whether you're a novice or an experienced angler, the knowledgeable crew will guide you to the best spots to reel in your catch of the day.

Rosselli Park

For a peaceful retreat away from the beach, Rosselli Park is not to be overlooked. Nestled among towering oak trees and featuring a serene lake, this park offers the perfect setting for a picnic, a leisurely stroll, or even bird watching. Enjoy the tranquility and natural beauty that this pocket of paradise provides.

Treasure Island Golf, Tennis, and Recreation Center

Enthusiasts of golf and tennis won't want to miss the Treasure Island Golf, Tennis, and Recreation Center. Located amidst beautiful coastal scenery, this facility offers well-maintained golf courses, tennis courts, and various recreational activities. Channel your inner athlete or try your hand at something new in this sports lover's paradise.
Find homes for sale in Treasure Island, FL with Dania Perry
Whether you're a buyer or a seller, having a professional by your side can give you a competitive edge and help you achieve your real estate goals. It's essential to seek guidance from an experienced real estate agent who understands the intricacies of the Treasure Island market.
Give yourself peace of mind by hiring an expert in luxury & waterfront homes in the area. Allow me, Dania Perry, to guide you in navigating the market and closing the best transaction. Since 2006, I have been assisting clients in South Tampa and the surrounding communities in buying and selling luxury and waterfront properties in the Tampa Bay area. With my Fortune 500 negotiating experience, I have navigated hundreds of multimillion dollar real estate contracts on behalf of my clients.
Call me today at 727.215.2045 or send me an email and let's discuss how we can work together to close the best deal in Treasure Island and the nearby communities.

Sorry we are experiencing system issues. Please try again.