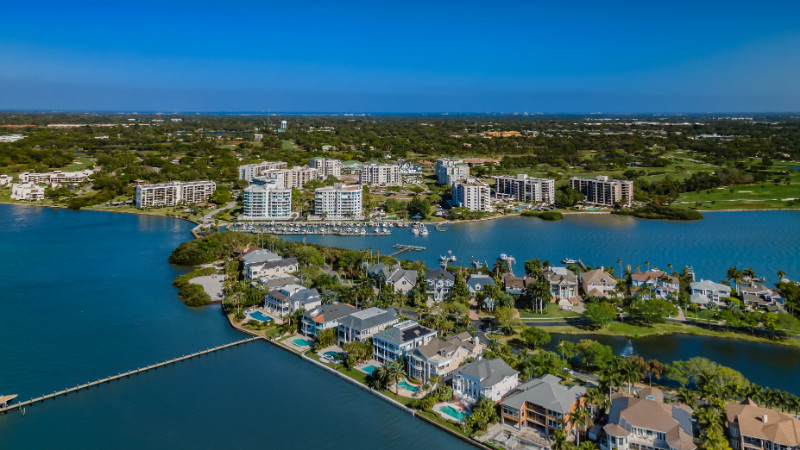 Homes for Sale in Belleair, FL
Belleair, Florida exudes old world elegance. With origins dating back to the turn of the 20th century, this small community has a modern charm that blends seamlessly with its historical attractions. The failed attempts to merge it with the city of Clearwater only solidified its character as a truly distinct neighborhood that offers peaceful surroundings without sacrificing the comforts of urban living.
Situated along Florida's breathtaking western shoreline, Belleair is ideal for people looking to live near gorgeous beaches, exclusive country clubs, vibrant shops, and some of the most prominent attractions throughout Pinellas County. The local lifestyle in this residential community can be best described as elevated and calm. And yet you're never far off from premier golf course clubs and a slew of casual and upscale dining spots.
If you're in search of a new place to call home or a worthwhile real estate investment, consider exploring homes for sale in Belleair. Below is a comprehensive guide to help you get up to speed with this fantastic waterfront town.
Location
Belleair is smack dab in the middle of Pinellas County, which makes it possible to reach both ends of the county in approximately 45 minutes by car. If you're flying in, Belleair is about 20 minutes away from St. Pete-Clearwater International Airport and a little over 30 minutes away from Tampa International Airport.
Belleair is sandwiched between Clearwater and Largo, giving the town access to big-city amenities. There are also similarly-named communities nearby like Belleair Beach and Belleair Bluffs.
The community is bounded by Watkins Road to the north (below the Morton Plant Hospital and Plant Mease Health Care Foundation), Pinellas Trail to the east, and Mehlenbacher Road to the south. To the west is a coveted shoreline where residents enjoy gazing at scenic sunsets.
Belleair is fully residential, but shops and restaurants lie just beyond the bounds of the town. Effective zoning regulations ensure that commercial activities don't disturb the tranquility of the neighborhood.
The Belleair, FL real estate market
Most properties in Belleair typically cost beyond the million dollar mark, including expansive multi-million dollar estates well suited for a lavish lifestyle. As expected, these homes come with nothing less than top-tier features, from brick facades and private tennis courts to high cathedral ceilings and gorgeous interiors. Some of the most sought-after homes are those with private access to the water — most especially the ones on Belleview Island which rarely become available.
However, it's not unusual to find Belleair homes that go up for sale between $450,000 and $800,000 (a mix of single-family and condo units)and you will not be sacrificing essential comforts in that price range. You'll find oversized car garages, ample lawn space, and well-kept homes with their original hardwood flooring. The typical architectural styles you'll see in Belleair include Colonial, Traditional, and Mediterranean.
Schools in the area
Owing to its proximity to excellent schools, Belleair is suitable for families of various sizes. Some of the best institutions close to town include the following:
A brief history of Belleair, FL
The community's beginnings can be traced back to the opening of the Belleview Hotel in 1897, which was 15 years before the founding of Pinellas County. Railroad titan Henry B. Plant had the luxurious hotel built on a spectacular high bluff overlooking Clearwater Bay — a warm and scenic vacation spot for an elite clientele looking for a respite from the cold winter season.
Ownership of the hotel changed when John McEntee Bowman, owner of the Biltmore chain of hotels, purchased the property in 1918. It was renamed the Belleview-Biltmore following the acquisition.
Wealthy patrons basked in rustic splendor as they partook in activities like skeet shooting, horseback riding, golf, tennis, and cycling. Many enjoyed their time so much that they decided to become permanent residents. This optimism would appear to be short-lived, as the stock market crash of 1929 and World War II temporarily held back the community's further development.
During the war, the Belleview-Biltmore served as a US Army training post. Most notably, the military used the shoreline below the bluff as a testing area for The Alligator, the amphibious troop-carrying vehicle which became iconic for their deployment in the beaches of Europe and the Pacific Islands.
Town renewal during the postwar period
An injection of new construction finally reinvigorated interest in the town. With an influx of new residents, population count rose to 2,200 people in 1955. Following U.S. Steel's purchase of land surrounding the Belleview-Biltmore, condominium developments throughout the 60s and the 70s helped increase the number of residents to about 4,000.
Decades of neglect forced the Belleview-Biltmore to shut down in 2009, but it was succeeded by the The Belleview Inn, which now sits on a new foundation while incorporating a portion of the original 1897 structure.
Elsewhere in town, a rebirth was underway. Active residents and community leaders endeavored to expand and beautify Belleair's streets, parks, and public buildings. Charming new homes were being built along the waterfront, significantly improving the town's appeal.
In many ways, the Belleair of today returns to its old roots as an affluent recreational community, where longtime residents and new transplants enjoy some of the finest comforts on this side of Pinellas County.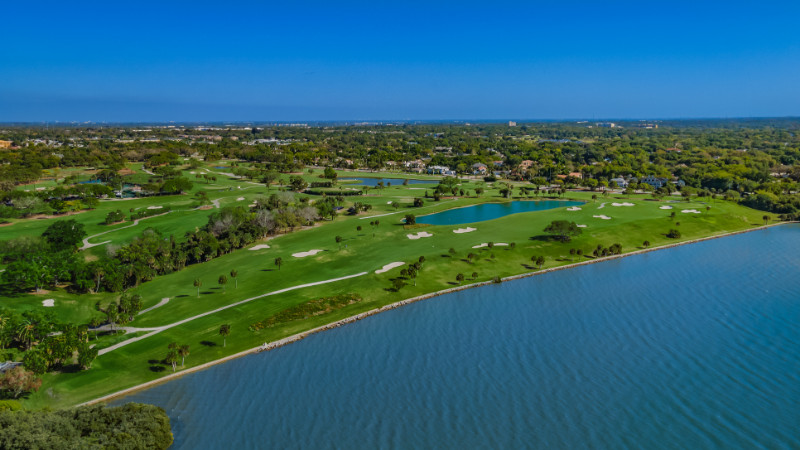 Outdoor recreation
Belleaire has more than enough to spare when it comes to outdoor recreation. Whether it's within or around the neighborhood, residents have easy access to a wide variety of parks, beaches, gardens, and private clubs:
The expansive Belleair Country Club has the unique distinction of being Florida's first-ever golf club. Integral to Plant's vision to create a lavish golf resort for winter patrons, the exclusive course started out with an initial six-hole layout with elevated greens in 1897. It has since improved to a 36-hole design courtesy of renowned architect, Donald J. Ross. Additionally, the club also has tennis (har-tru clay) and pickleball courts which allow for evening play. Apart from the premier sports facilities, the club's casual and fine dining options are immaculate experiences you shouldn't miss. The Main Dining Room offers fantastic views of the course. Meanwhile dining in The Belle Terrace allows you to admire awe-inspiring sunsets over Clearwater Bay.

Pelican Golf Club is another exclusive golf club in Belleair offering a glimpse of old world opulence mixed with up-to-date facilities. The 18-hole par 70 course improves upon Ross's original layout, featuring uninterrupted rough, impeccably maintained greens, and crushed quartz sand. An air of sophistication permeates every space of the club, especially when you sit back and enjoy the finest dining and lounging experiences which The Club has to offer.

Belleair has an abundance of open spaces which includeHallet Park, Doyle Park, Thompson Park, Hunter Park, and much more. This assortment of local parks and green spaces are where you'll find residents taking leisurely walks, running laps, taking their dogs to meet other neighborhood pets, or simply appreciating nature.

Brewster Field and East Tennis Courts (beside the Belleaire Parks & Recreation Department) are where sporty residents practice their soccer and tennis game.

In Belleair, you're just minutes away from white sand beaches — which can be found in nearby communities like the city of Belleair Beach, Sand Key Beach, town of Belleair Shore. Although these places are technically separate communities, it's not uncommon for Belleair residents to drop by, get a tan and enjoy a number of beach activities while admiring the expansive gulf. Plus, there's quite a few vibrant establishments along the shore.

Every year, Largo Central Park is visited by more than a million people from various parts of Central Florida. A 10-minute drive from Belleair, it offers over 70 acres of open space with a number of attractions on display, including a miniature train, a historical landmark, performing arts center, picnic areas, playgrounds, and so much more. Largo

The 100-acre Florida Botanical Gardens offers an immensely serene space to appreciate Florida's diverse tropical flora. To view the gardens simply as an attraction would be a disservice. It's an essential institution in educating visitors and future generations about the importance of preserving the natural world. A number of social events can also be held here, providing a picturesque setting to wow guests and dignitaries.
Cultural spots
Whether you're interested in learning about a place's roots or enjoy seeing talent on stage, there are a few attractions around Belleair that provide an enriching cultural experience. Here's a glimpse of what's available in the area:
The Clearwater area's historical significance in Florida's development, as well as its strategic importance during World War II are showcased in detail at the eponymous historical society and museum. Here, you'll find a number of historical documents, photos, and various other objects that help paint a picture of life during some of the community's different phases.

Largo Central Park's Performing Arts Center is where you can go to see a variety of family-friendly shows, from Broadway-caliber performances to fist-pumping concerts. Additionally, the center also offers theater classes and camps for youth interested in fully developing an innate talent or simply exploring a new hobby.

Functioning as an outdoor local museum, Heritage Village educates visitors about the extensive history of Pinellas County through carefully preserved houses and buildings, as well as an assortment of artifacts from the 19th century — from the McMullen House built in 1868 to the Alahuzos Sponge Warehouse from the 1930s.
Local restaurant scene
Just beyond neighborhood bounds is where you'll find more than a handful of top notch restaurants. Make sure to try the following when you're in town:
Commercial areas
From the essentials to gourmet selections and high-end splurging, there's no shortage of retail and shopping options around Belleair. Below is a snapshot of what's nearby:
Belleair Bluffs Plaza has quite a few shops and restaurants. Plus, it's near a Publix Super Market branch

Along the stretch of Missouri Avenue, you'll find a plethora of local shops, malls, and big-name chain stores — from Sara's Mediterranean Food Market and Shoppes of Midway to T.J. Maxx and Walmart,

The Pinellas Shopping Center has grocery stores, clothing shops, auto repair services, nail salons, banks, and has everything else you need.
Make the move to Belleair, FL today
Belleair offers compelling real estate options for the discerning buyer who is looking for a serene yet well-connected community to settle down and raise a family. Alternatively, a breathtaking waterfront location or a cozy cul-de-sac in town provides a lucrative opportunity to diversify your asset portfolio.
Find the best homes for sale in Belleair with me, Dania Perry, Tampa Bay's premier luxury and waterfront real estate agent. As a consistent top sales producer in the Belleair area, I have been recognized in a numerous publications and magazines such as Forbes, Fortune, and Entrepreneur. With my years of experience in assisting buyers and sellers in the purchase and sale of their homes, rest assured your real estate experience will be smooth-sailing
Gain access to proven real estate expertise and get in touch today. You may contact me by phone at 727.215.2045 or send a short email.

Sorry we are experiencing system issues. Please try again.